Manga of the Week: Iris Zero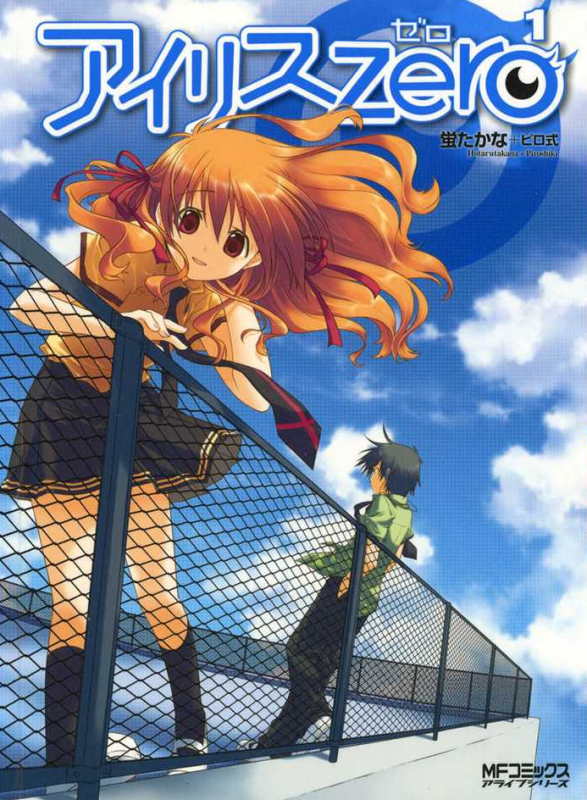 So recently I've been reading a lot of manga so I thought I would try posting some of the gems I've found during my search. I'd like to start off with Iris Zero since in my opinion its one of the newer mangas which I feel has potential. 
So what is it about this manga which catches my eye? I'm not quite sure actually. The characters are well made, the art style is refreshing, and the story just comes to life. 
Synopsis from Mangafox:
 In a world where every boy and girl has a special power called Iris, Toru who, as a result of not having any kind of special power, was bullied from a young age, lives by his motto: "low exposure" – to live without standing out. But his peaceful school life changes when he receives a certain "Confession" from the schools most popular girl, Koyuki. His motto begins to shake!!

The school fantasy story that shakes the heart begins with their meeting.
-------------------------------------------------------------------------------------------------------------------------------------------------------------------------------------------------►
A new story for the new year ;o
I awoke slowly. The feeling that something was not quite right kept niggling in the back of my mind. I reached for my phone to check the time.
9am.
Shit.
I should have noticed earlier from the way the light was shining through my window. It was definitely too bright out for the time I should have been up and about. I had gotten home at 6 thinking that I could ninja some sleep in before waking my ass up at 8. My insurance was my phone alarm which, looking back I haven't actually tested yet. But that my friends is a story for another day. I rolled out of bed to get my bearings. And thats when it struck.
It was a feeling that I had only felt once before. At this point in time I barely recognised the telltale signs of what I knew would be the beginning of what would be a rather, uncomfortable day. The feeling in the center of my being could not be suppressed. It seemed that my body had decided to reject one or more of the constituents of the previous nights revelries. I thought quickly about what would have been the likely culprit. I didn't like my chances. There were indeed many things which I probably should have taken in smaller quantities if at all. Was it the undercooked lamb? I doubt it. Perhaps it was the chocolate sprinkles of unknown origin. This I believe was a more likely candidate, however I do not believe that on its own it could have achieved the level of devastation I felt inside. Closer I think was what I was having the chocolate sprinkles with. Jelly and icecream. 
I know that in your minds you are thinking. NAY. It cannot be. Neither did I until I remembered that hidden deep within the flavor of this delicious dessert was the underlying taste of vodka. I say underlying because for some reason unknown the vodka had decided to concentrate itself at the bottom of the jelly regardless of how well mixed it was.
But then I remembered the sensation. This feeling of queasiness which had a nostalgic theme to it. For it was not too long ago when trapped in the bunker that I had come across this feeling. It was in fact caused by the ingestion of one too many energy drinks. But I believe that one too many may have been an understatement. I don't have an exact number of how many I had over the course of the night. But I do remember going through at least a 3rd of a bottle of jaegarmeister. Having run out of redbulls I had appropriated my secret stash of monster from my place. A remnant of 7-11's infamous $1 day.
Yes this was definitely it. Although it seems that I have discovered another symptom from all this. Maybe it is related. Maybe it isn't. All I know is that my fingers have been tingling for the last acouple hours as if they were numb. But I still have full awareness and control. Perhaps my mutant powers have awoken, perhaps this is the infamous Carlton Draught Tingle.
Carlton Draught Tingle - http://www.youtube.com/watch?v=qJoERq9Eznc
For those who are unaware.
Regardless
Happy New Years Guys
New Years Resolution 1.
Don't drink too many energy drink in a short period of time.
PS. In my head this story was better formed. It kinda got lost in translation or I got distracted while writing it. Either way I hope everyone enjoys the new year.
-------------------------------------------------------------------------------------------------------------------------------------------------------------------------------------------------►
-----------------------------------------------------------------------------------------------------------------------------------------------------------------------------------------------►
-----------------------------------------------------------------------------------------------------------------------------------------------------------------------------------------------►